Celebrity Home Tours: Explore Famous Mansions
From the glitz and glamour of Hollywood to the towering skyscrapers of New York City, the world has long been captivated by the lives of the rich and famous. Celebrity home tours offer an exciting opportunity to catch an intimate glimpse into these star-studded lifestyles, showcasing luxurious mansions and properties that many of us can only dream of calling home. In this discussion, we will delve into the history of celebrity home tours, explore top destinations and unique tours, and provide valuable tips for making the most of your experience.
History of Celebrity Home Tours
Celebrity home tours have been a popular form of entertainment for several decades. The origin of this intriguing pastime can be traced back to the Golden Age of Hollywood in the 1920s and 1930s. During this time, the movie industry was booming, and the public was increasingly fascinated by the glamorous and luxurious lives of the stars. As a result, a new type of tourism developed in which visitors to Los Angeles would take guided tours of celebrity neighborhoods, hoping to catch a glimpse of their favorite actors, directors, and producers. These early tours often relied on word-of-mouth and insider information about where the stars lived.
Over time, celebrity home tours have adapted and evolved to meet the changing interests and demands of tourists. In the mid-20th century, as television began to replace film as the dominant form of mass entertainment, tours expanded to include the homes of TV stars. Later, when music and sports celebrities began to rival movie stars in fame and fortune, they too were added to the list of notable homes featured on these tours. Today, tour companies offer a wide range of options, including specialized tours focusing on specific genres, time periods, or types of celebrities.
Technological advancements have also played a significant role in the growth and development of celebrity home tours. Starting in the 1980s, tour companies began using custom-designed vans with large windows to transport tourists, enabling a clearer view of the impressive mansions and estates. Additionally, the emergence of GPS technology has allowed tour operators to map out more accurate and efficient routes around celebrity neighborhoods, providing a more enjoyable and comprehensive experience for their customers.
The enduring popularity of celebrity home tours can be attributed to a number of factors. For many people, these tours provide a rare and tantalizing glimpse into the lives of the rich and famous, offering an opportunity to see where they live, to learn how they spend their time, and to imagine what it might be like to be a part of their glamorous world. Moreover, celebrity culture has become an increasingly significant part of modern society, with film, television, music, and sports stars dominating news headlines, gossip columns, and social media feeds. As a result, there is a seemingly insatiable appetite for information about the lives of celebrities, and celebrity home tours cater to this curiosity.
One factor that contributes to the popularity of celebrity home tours is the architecture and design of these stunning residences. Many celebrity mansions and estates are not only impressive due to their size and opulence, but also because of their unique architectural features, landscaping, and interior design. Tourists interested in architecture, real estate, or home decorating are drawn to these home tours for the opportunity to see these remarkable properties up close and appreciate the style and craftsmanship firsthand. In this way, celebrity home tours cater to a diverse range of interests and provide a unique and memorable experience for visitors.
Top Destinations for Celebrity Home Tours
Los Angeles, a city well-known for its association with celebrities, is a popular destination for these captivating home tours. Luxurious neighborhoods such as Beverly Hills, Bel Air, and the Hollywood Hills house opulent mansions and sprawling estates belonging to both current and past celebrities. Guided tours showcase iconic homes, like the Playboy Mansion, the former residence of Michael Jackson, and the estates of stars like Leonardo DiCaprio and Jennifer Aniston. By exploring the appeal of the architecture and design found in these celebrity homes, visitors to Los Angeles gain an additional layer of excitement and appreciation for the glamorous lifestyles they represent.
New York City is another prime destination. Some popular neighborhoods for celebrity spotting include Tribeca, home to stars like Taylor Swift and Robert De Niro, and the West Village, where celebrities such as Sarah Jessica Parker and Hugh Jackman reside. Guided tours provide fascinating insights into the lives of the rich and famous.Miami is a hot spot for celebrity home tours, with luxurious neighborhoods like Star Island and Palm Island home to the extravagant mansions and estates of celebrities like Gloria Estefan and Diddy. Cruises provide a unique vantage point to take in the breathtaking views of these ostentatious homes while hearing fascinating stories about the inhabitants who reside there.Nashville is known as the "Music City" and is home to country music stars like Tim McGraw and Faith Hill, Dolly Parton, and Keith Urban. The exclusive neighborhood of Belle Meade offers guided tours to showcase the stunning architecture and history of these impressive residences.London offers a fantastic opportunity to discover luxurious mansions and elegant townhouses inhabited by British royalty and A-list celebrities. Popular neighborhoods such as Notting Hill, Mayfair, and Kensington provide visitors with a chance to catch a glimpse of the opulent lives of these well-known residents.
Famous Celebrity Mansions and Properties
In addition to London, spectacular landscapes and picturesque scenery around the world are home to some of the most famous and luxurious celebrity mansions and estates. These residences, owned by renowned personalities, showcase lavish living and unique architectural designs that reflect the tastes and preferences of their famous occupants. Some of the most iconic celebrity homes include Graceland, Elvis Presley's expansive estate in Memphis, Tennessee, Neverland Ranch, which belonged to Michael Jackson in Santa Barbara County, California, and The Promised Land, a magnificent property owned by Oprah Winfrey in Montecito, California. These impressive estates frequently appear on celebrity home tours, sparking the curiosity of fans and architecture enthusiasts alike.A visit to Graceland offers a fascinating insight into the life of the King of Rock 'n' Roll, Elvis Presley. This 14-acre estate features a colonial-style mansion with a stately white facade adorned with ornate details. Upon entering, one is taken aback by the eccentric and lavish interiors that showcase the legendary singer's unique sense of style. Some of the most notable rooms include the elaborate Jungle Room, with its green shag carpets and Polynesian-inspired decor, and the famous Trophy Room, housing Elvis's glittery costumes and treasured memorabilia. Graceland has been open to the public since 1982 and attracts millions of visitors globally, making it one of the most popular celebrity home tours.Another world-famous celebrity home, Neverland Ranch, was once the whimsical abode of "The King of Pop," Michael Jackson. Spanning across 2,700 acres, this fairy tale-like estate boasts numerous attractions, including an amusement park, a petting zoo, and a beautifully landscaped garden adorned with life-size bronze statues. Although the ranch has undergone several changes over the years, it continues to evoke a sense of awe and wonder among those who are fortunate enough to visit. While Neverland Ranch is not currently open to the public, it has been widely featured in television programs and documentaries, providing a glimpse into the magical world of Michael Jackson's enchanting home.Adding to the list of famous celebrity homes is The Promised Land, the palatial estate owned by media mogul Oprah Winfrey. Situated on 42 acres of lush land, this 23,000-square-foot Georgian-style mansion is nothing short of grandeur. The magnificent residence features a total of 14 bedrooms, 10 fireplaces, an extravagant wine cellar, and a state-of-the-art gourmet kitchen. The estate also boasts sprawling lawns, rose gardens, tennis courts, and picturesque mountain views, making it a haven of luxury and tranquility for the renowned talk show host. Although not open for public tours, the opulence of the estate has been featured in various publications, showcasing the mesmerizing beauty of this property.One luxurious celebrity residence worth discussing is the iconic Playboy Mansion, the late Hugh Hefner's home, who was the founder of Playboy Magazine. Situated in Los Angeles, California, this expansive Gothic-Tudor-style mansion is as legendary as its famous owner. Spanning over 20,000 square feet, the mansion boasts 29 rooms, a wine cellar, a home theater, and a gaming room. The property's outdoor offerings include a swimming pool, a grotto, a tennis court, and even a private zoo. Numerous high-profile events took place at the Playboy Mansion, and its wild parties and sophisticated gatherings are forever ingrained in Hollywood's history. Although private and restricted, a chosen few have had the opportunity to discover the renowned estate during fundraisers and special events.
Tour Companies and Options
To explore these extraordinary celebrity homes, various tour companies specialize in providing visitors with an exclusive experience of viewing famous homes in Los Angeles and Hollywood. Signing up for one of these celebrity home tours allows you to delve into the lavish lifestyles of the stars, getting a glimpse of both legendary estates like the Playboy Mansion and the gorgeous homes of other renowned figures. When visiting Los Angeles, be sure to check out these tours for an unforgettable experience.One of the most renowned companies offering this service is Starline Tours, which has been in operation since the late 1930s. In addition to Starline Tours, other reputed tour companies in the industry include TMZ Celebrity Tours, LA City Tours, and Ultimate Hollywood Tours.While each company provides a similar experience, there are differences in terms of pricing, packages, and amenities offered.Starline Tours is known for its extravagant double-decker bus tours, offering a variety of options tailored to the customer's preferences.They offer multiple tours focused on celebrity homes, such as the Movie Star Homes Tour and the Movie Locations & Celebrity Homes Tour.Although Starline Tours are typically pricier than other offerings, averaging at around $45 per person, the experience is often seen as more luxurious with advanced features like stadium seating and professionally trained tour guides. Also, these tours often include visits to famed locations such as Rodeo Drive and the Hollywood sign.On the other hand, TMZ Celebrity Tours are an extension of the popular television show, TMZ.Their tours cater more towards Hollywood gossip enthusiasts, as they provide the latest scoops on the celebrity world alongside glimpses of their luxurious homes.The tours last approximately two hours and cost around $52 per person, offering a unique, interactive experience with the option to participate in an on-board celebrity trivia game.Additionally, this tour also includes the opportunity to win exclusive merchandise and souvenirs.LA City Tours offers a more comprehensive approach, including celebrity homes as part of their larger Los Angeles city tours.The company provides a half-day tour (around 5 to 6 hours) that covers several aspects of Los Angeles and Hollywood, including celebrity mansions, iconic sites like the Walk of Fame, and famous landmarks such as the Chinese Theater.The All LA in a Day Tour is priced at $89 per person and offers several amenities such as complimentary hotel pick-ups, drop-offs, and refreshments.Ultimate Hollywood Tours is another option for those interested in touring celebrity homes.Their "Ultimate Celebrity Homes & Hollywood Sign Tour" combines glimpses into star-studded residences with a visit to the Hollywood Sign and other well-known locations.Priced at $39 per person, the tour lasts around 2 hours, and the vehicles are equipped with high-definition monitors displaying movie clips, information about celebrities, and Google earth imaging.One unique feature of this tour is that it also incorporates celebrity filming locations, giving guests an opportunity to see where their favorite stars have worked.Moreover, while comparing the different tour companies, customers should take note of common celebrity home tour elements such as multiple departure points and the capacity to make reservations in advance.The duration of these tours often varies between 2 to 6 hours, and therefore it is vital for visitors to select a tour option that aligns with their interests, budget, and time constraints.In conclusion, various tour companies provide their unique approach to showcasing celebrity homes, giving tourists an opportunity to explore the glamorous side of Hollywood during their visit.
Unique and Unusual Celebrity Home Tours
When it comes to celebrity home tours, there is a whole world of unique and unusual options beyond the typical Hollywood mansions. Fans of science fiction films, for example, can delve into the lives of their favorite stars by visiting their homes, which often feature futuristic architecture and designs. One such example is the iconic 1980s Spaceship House in Malibu, owned by The Rocky Horror Picture Show producer Lou Adler. This architectural wonder resembles a UFO, drawing sci-fi fans from around the world and adding a special twist to the traditional celebrity home tour experience.Instead of solely focusing on modern-day celebrities, some home tours highlight famous figures from the past, such as homes with haunted histories. The eerie LaLaurie Mansion, located in the French Quarter of New Orleans, is infamous for its dark past involving former owner Delphine LaLaurie's horrific treatment of enslaved people. This mansion has changed hands multiple times, ultimately being bought by actor Nicolas Cage in 2007 before its eventual repossession by the bank in 2009. On a less sinister note, the Winchester Mystery House in San Jose, California, once belonged to Sarah Winchester, the widow of gun magnate William Wirt Winchester. It is said that her home contains numerous strange and unexplained architectural features, ultimately drawing visitors who are interested in both history and hauntings.Additionally, there are celebrity homes that showcase their owners' commitment to environmental activism and sustainable living. For example, actress Daryl Hannah's Colorado mansion is constructed from repurposed and eco-friendly materials, featuring elements like adobe walls and solar panels. Julia Roberts also built a sustainable, solar-powered residence in Malibu, which incorporates recycled materials and non-toxic finishes to minimize its environmental impact. These eco-friendly celebrity homes offer a different perspective and promote the importance of sustainable living to those who visit them.Another category of unique celebrity home tours includes those that delve into the life and career of legends in the music industry. Graceland, the former home of Elvis Presley and now a museum, attracts millions of visitors each year due to its opulent decor, the singer's memorabilia, and his burial site. Other musician-focused tours include the childhood home of Jimi Hendrix, where fans can explore the Seattle residence's modest beginnings before it became a shrine to the rock legend.
Lastly, there are off-the-beaten-path locations that capture the essence of the celebrities they belong to. For example, the Fairytale Cottage in Carmel, California, previously owned by Hugh Comstock, attracts visitors for its whimsical, storybook-style architecture that has been said to inspire the fantastical settings of popular films like Alice in Wonderland and The Wizard of Oz. These unconventional celebrity homes invite people to expand their horizons and learn more about the artistic vision and bold imagination of the stars they admire.
Visitor Experiences and Tips
Additionally, many visitors who embark on celebrity home tours express delight in experiencing the rich and famous's glamorous lifestyle up close. The excitement of catching a glimpse of an A-lister's private world draws in large crowds daily, especially in areas like Hollywood or Beverly Hills. These tours often provide tourists with an interesting mix of celebrity history and present-day glamour, accompanied by knowledgeable guides who can provide fascinating insights about the celebrities and their lavish homes. The combination of unique locations and famous stars' abodes offers a compelling and entertaining experience for tourists around the world.
A common tip to maximize your celebrity home tour experience is to book in advance during peak seasons, ensuring that you'll get a seat on the bus or the specific tour you're interested in. Most of these guided tours offer online booking options, making it easier for visitors to plan and secure their spot ahead of time. It's also essential to be aware that there might be multiple tours available, depending on your interests – for example, focusing on classic Hollywood stars or present-day celebrities. Take some time to research the options and select the tour that best suits your interests.
While it's crucial to enter these experiences with an open mind and a sense of adventure, it's also worth noting that celebrity home tours will rarely allow you to actually enter a celebrity's property. So, set your expectations accordingly and be prepared to view the homes from the outside or designated areas. Additionally, be prepared for heavy traffic or unexpected roadblocks, which could be attributed to the popularity of these areas or a celebrity sighting. A touch of patience and understanding will go a long way towards making the experience enjoyable for you.
Tour participants often recommend bringing a camera, smartphone, or binoculars to have a closer look at the sprawling estates, opulent homes, or the off-chance of spotting a celebrity. Capturing these moments in pictures and videos can be a fun way to share your experience with friends or look back at your favorite parts of the tour.
It's also essential to fully embrace the stories and anecdotes provided by your guide. Their knowledge and entertaining perspective will truly enhance your tour's overall experience. Tour guides are often eager to answer questions about the celebrities' lives, so don't hesitate to engage in conversation. This personal interaction adds to the value of the tour and leaves visitors with a memorable, exhilarating experience in the world of luxury and fame.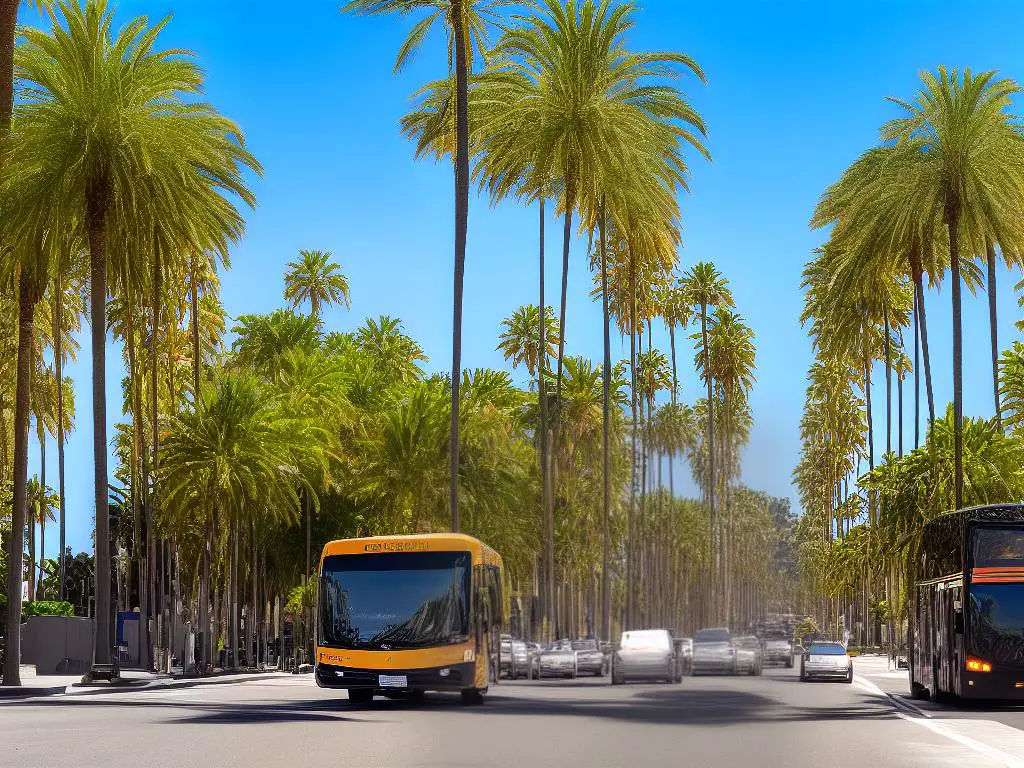 Throughout this exploration, it is evident that the fascination with celebrity culture and home tours has deep roots in our society, reaching back to the earliest days of Hollywood. As the industry has evolved and expanded to encompass various tour options – from traditional bus tours to unconventional experiences – there is truly something for every type of fan. Whether you are looking to take a trip down memory lane by visiting the homes of classic Hollywood legends or experience the current A-list lifestyle, celebrity home tours promise an unforgettable adventure in the enchanting world of fame and fortune.